Every Word You Cannot Say
"May this book find the person it needs to. May they find every word they were looking for."
In 2013, my depression overwhelmed me and caused me to stop writing. From the outside, I had an enviable life. I was a #1 bestselling writer, I'd met the woman of my dreams and I was surrounded by people who told me they loved me. But depression doesn't care about what you've accomplished or who loves you. I found a way back and I wrote down some of the conversations I had with myself and others along the way here. There are a lot of things I still can't say, either to myself or others, but I've written most of it down in here, and that's something. It's real, and I'm holding it in my hands, and soon, you can too. Thank you to everyone who's stuck around along the way.
"I need you to understand something. I wrote this for you. I wrote this for you and only you. Everyone else who reads it, doesn't get it."
Started 2007, I Wrote This For You is an acclaimed exploration of hauntingly beautiful words, photography and emotion that's unique to each person who reads it. This internationally best-selling book gathers together nearly 200 of the most beautiful entries into four distinct chapters; Sun, Moon, Stars, Rain. Together with several new and exclusive poems that don't appear anywhere else, each chapter of I Wrote This For You focuses on a different facet of life, love, loss, beginnings and endings.
This is the first collection of the best photography and prose of I Wrote This For You, from the blog's inception in 2007 to 2011.*
This is a list of 300 things I hope for you, without ever having met you.
From Iain S. Thomas, the creator of I Wrote This For You, and artist Carla Kreuser comes a collection of 300 things they truly and sincerely hope for you: from wishing you always have a pen, to hoping you're never lonely, and everything in-between.
This collection of inspiring prose and illustrations will move you, and remind you of what's important in life as you live it. Or, that's what they hope.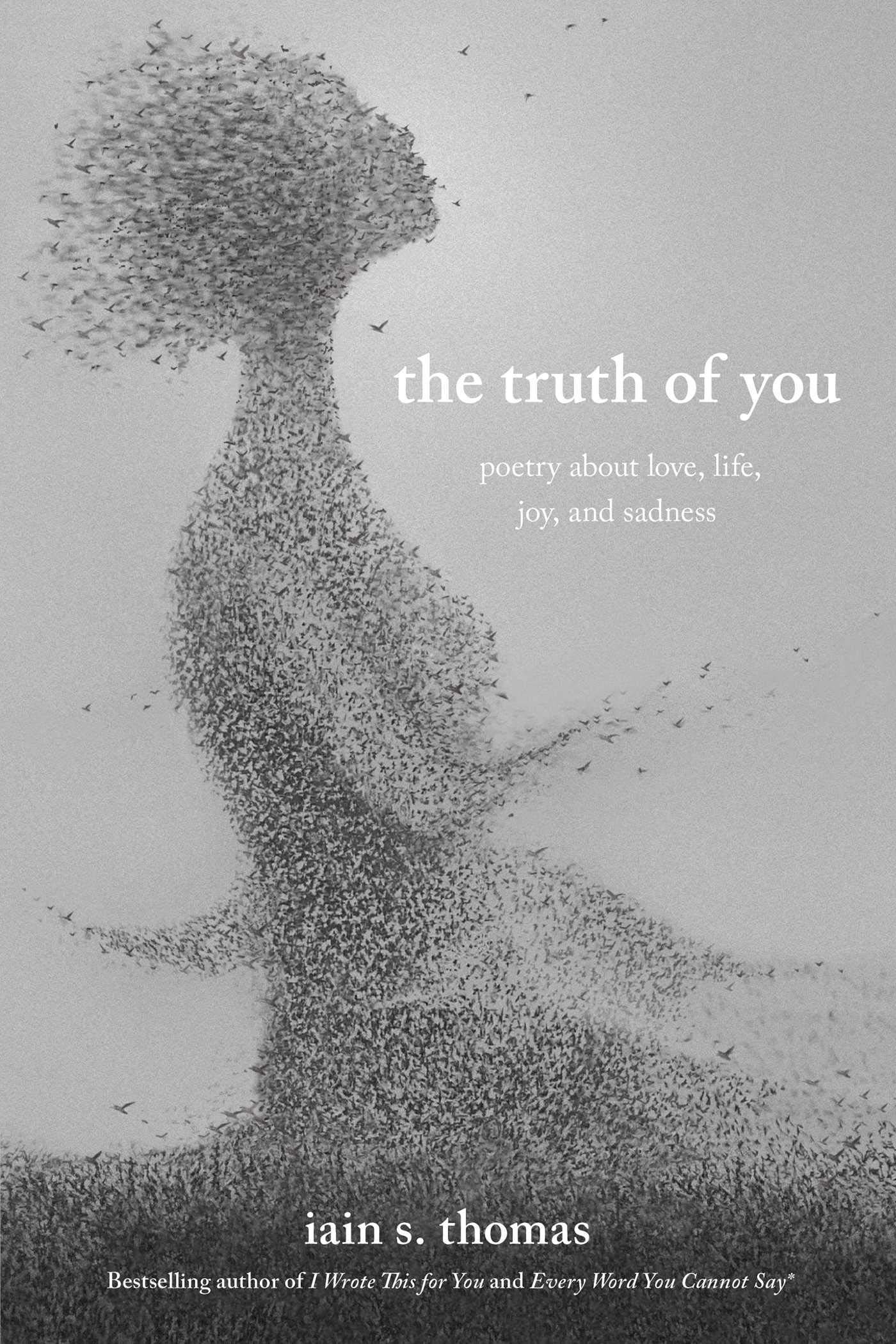 The long awaited new collection of prose and poetry by global bestselling poet and artist Iain S. Thomas covers the entire human experience, from birth, to death, to love and loss and everything in between. Containing unique black and white illustrations and running to more than 200 pages, this masterwork will make you feel seen, heard and finally, that the truth of you and who you are, is clearer than it's ever been before.
Dear You,
 
I want you to know that I see you.  
 
I want you to know that even if no one else does, even if you are a ghost in this bookshop, or just the static floating across the screen of your computer, wherever you're reading this, I see you.
 
I see you in the dark and I see you in the grey. I see you as a story, as words I have spoken or may yet speak. Maybe only in a memory or a dream.
 
I see your hands and your arms and your body and your legs and your face and I see what you have been and what you will be. I see you and in looking at you, I want you to know that whoever you've had to be to survive all this, I will not look away.
 
I want you to know that there's a space inside this book for you.
 
So if you have the time and the inclination, you can sit here with me, just for a while.
 
And perhaps between us, we can see everything that matters.
 
-pleasefindthis
I Wrote This For You 2007-2017
10 years later, we looked back. This is the collector's edition of pretty much everything we've made since we started in 2007, in beautiful hardcover with full colour photography and reedited.
It's been 10 years since the world officially ended. In the last city on Earth, Jon Salt is addicted to Sadness, a drug that invokes its name, and obsessed with his lover, Michelle; both of which threaten to drive him insane.   Strange creatures and new technologies appeared in the last days of humanity and the widespread adoption of teleportation technology sundered the fabric of time and space, leaving a smattering of looping ghosts. It is a sad, monotone world, but the remaining populace is happy, thanks to the anti-depressants in the water supply. The last government on Earth has taken a special interest in a gift that Jon possesses: the ability to make his thoughts real. Jon must rely on that gift and the help of a few unlikely friends to stay one step ahead of those who desperately want to use him for something far more sinister than even he could dream…
I Wrote This For You And Only You
The follow-up to the international #1 bestselling collection of prose and photography, I Wrote This For You And Only is the second book in the I Wrote This For You series and gathers together the very best entries in the project from 2011 to 2015.
Who You Were Before You Were You
Can I tell you a secret? Before you were born, you had a conversation. You spoke about everything you were afraid of and everything that might happen. And the person you spoke to, reassured you. And gave you peace. And told you that it was going to be ok.And if you forgot, you can read this book, and maybe some small part of you will remember.
I Wrote This For You Just The Words
I Wrote This For You: Just The Words was published in 2013 and contains 400 (around twice as much as the other books) of the best poems from I Wrote This For You but none of the photography. We created it as a less-expensive alternative to the other books that have full colour photography throughout, and it contains some of the poetry found in both of the other books.
How to be Happy: Not a Self-Help Book. Seriously.
Central Avenue Publishing is proud to publish another book by the widely acclaimed poet Iain S. Thomas. As many have noted on various social media platforms, there have been some issues that have led to the delayed release of this book. For this, we apologise and hopefully the content of the book will clarify the circumstances surrounding this delay. We feel we should also point out that this is not technically a self-help book, but it does contain some poignant prose, poetry and stories which may or may not lead you to happiness. Mostly, it is the rather unfortunate chronicle of a man's attempt to write the book he's promised his publisher, no matter the cost to his sanity.